About Thermography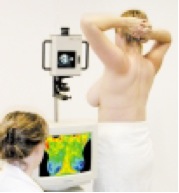 Thermography or Digital Infrared Thermal Imaging (DITI) is a 15 minute non-invasive test of physiology. DITI detects the subtle physiologic changes that accompany breast pathology, whether it is cancer, fibrocystic disease, an infection or a vascular disease. Inflammation, which generates heat, is the first sign of a disease process.
If inflammation is discovered through thermography, lifestyle changes can be implemented well in advance of a serious problem.
Diet, supplements, specific exercises, natural hormone balancing and detoxification can help address inflammation.
Work closely with your health professional and monitor your progress carefully.
DITI is appropriate for younger women (30-50) whose denser breast tissue makes mammograms ineffective. All women will benefit with non- radiation and pressure free screenings.
Learn the Bare Facts
Safe, easy, and pain free
No radiation exposure – FDA approved
No compression of breast tissue
Detects changes in breast tissue from the smallest of tumors.
Identifies inflammatory breast cancer (IBC)
Entire breast can be imaged
Identifies fibrocystic breast disease or tumor inflammation
Effectively and safely screens breasts with implants
Useful for evaluating chest wall after breast surgery
Effective for breasts of all sizes
Creates opportunities for early intervention
*Note: Thermography is not a replacement for Mammography. We recommend a balanced health approach that includes both prevention and traditional medical approaches.